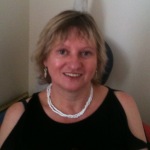 Vilma Domavari is a dedicated therapist to help you to having a healthy and happy Life.
She is the manager of the Vitality Clinic.  The Vitality Clinic was formed from the Telek Academy of Massage Australia in 2010.
Hi, my name is Vilma  Domavari.  I have over 20 years experience in helping people with health and relationship problems. I am happy to show the way how you can rich  and use your highest potentials towards your fulfilments of your life.It is my passion to help you stop unwanted habits and live your life you deserve.
My Commitment to You:
I want to help you to quit cigarettes and breath a fresh air for the rest of your life. I want to help you to be free from the cigarettes for life.
I'm very dedicated to assist you to quit cigarettes in 60 minutes. It is an easy way without any side effects. Not only do you save money, you will increase your health and life span. You will find that soon after you quit that your body will work much more efficiently. You will have more energy and feel more vitality. I will assist you to quit smoking and stay non smoker. I give you a lifetime guarantee.
I want help you because I experienced the hard battle to stop smoking. I was a heavy smoker during my university years. I became a prisoner of cigarettes and I was badly affected by the side effects of cigarettes. I had acute bronchitis, chest pain and inflammation. It was very hard for me to quit smoking. Several times I quit cigarettes and I started again. I want to save you from this. You can come back to me if your feel that you need more assistance. I will not criticise you. I will give you a free back up sessions.
Today I am a non smoker. I breathe only fresh air. I want you also to be successful and quit cigarettes forever to be a non smoker for life. I love people and I want to help people. When I heard first about learning how to help people quit with this process I quickly made a decision to learn the powerful techniques of hypnosis and NLP to aid people to quit cigarettes in 60 minutes by the pleasant and easy way.
I came from Hungary where I worked in the technical college as a lecturer. I hold a bachelor degree in teaching, diploma in counselling and massage therapy. I am a certified therapist to help you to quit cigarettes in 60 minutes.
I am dedicated and very exited to help you quit the deadly habit of cigarettes with this easy, comfortable and affordable way. If you have any questions or you want to make your booking to quit cigarettes please do not hesitate. Call me on my telephone or send an e-mail.
Your health is in your hands but you are not alone. I am here to help you. Over the last 18 years I have worked in Mt Pleasant and Rockingham. I run two busy clinics in massage therapy, counselling and quit cigarettes in 60 minutes. I give you lifetime guarantee for my quit cigarettes clients. I am a certified presenter and co-author of the bestseller book: How to Get a Bigger Bite Out of Life.
I speak English and Hungarian.
I am a registered hypnotherapist by the Australian Hypnotherapists Association (AHA)
I hold a bachelor degree in teaching , diploma in counselling, diploma in hypnotherapy and diploma in remedial massage therapy. I am a NLP master practitioner and trainer.
I dedicated my life to help you being healthy and find all of the recourses what you need to be happy and successful.
You can find me in South of the river in Western Australia
I work in Applecross, Rockingham, Mandurah
Our contact  numbers are: 0433167704 
Email Address: vitalityclinic.a1@gmail.com